Fleming's in Lake Livingston processes Wild Game such as Deer, Elk, Hogs, and Exotics as well as Domestic Game such as Cattle, Hogs, and Sheep. We are open on Sundays during Deer Season.
(Oct 30th – Jan 15th, from 2 pm – 6 pm) to provide convenient drop-off solutions for hunters.
Hours of Operation: Lake Livingston

Mon- Fri 8 am - 6 pm
Saturday 9 am - 3 pm
Sunday 12 pm-6 pm
Base processing fee includes any fresh cuts stew meat, roast, cutlets, and bone-in steaks, boneless steaks and bone-in or boneless chops! Plus grinding, all tenderizing, and vacuum-sealed packaging is included!
We do not accept outside beef/pork to mix with orders. We have to use our own USDA inspected beef/pork to ensure the same quality and consistency every time.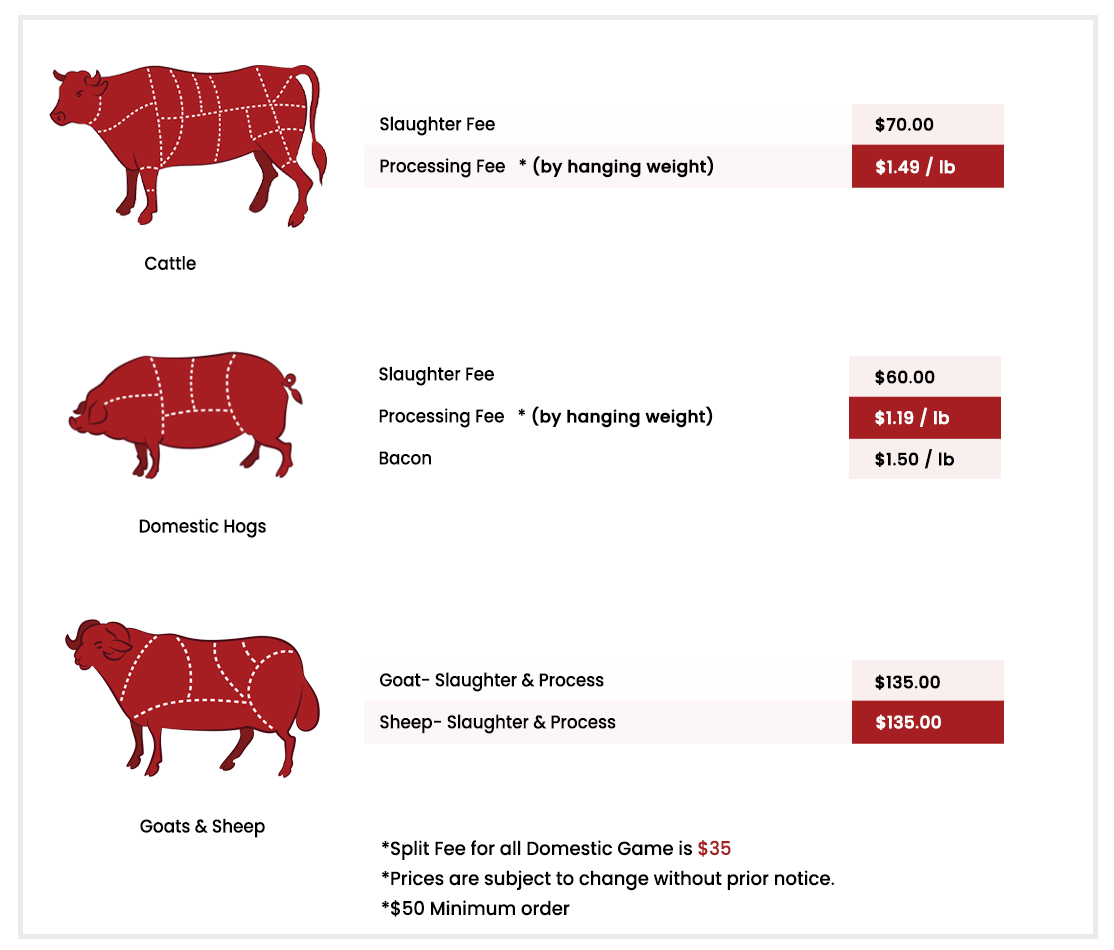 Base processing fee includes packaging, tenderizing, grinding. No extra charge for tenderizing or vacuum-sealed packaging!
We do not accept outside beef/pork to mix with orders. We have to use our own USDA inspected beef/pork to ensure the same quality and consistency every time.
Skinning option available for $55.00.
I want to thank you and all of the members of your family for the excellent work you did processing the 4 deer that we brought in during the season. You are by far the best processor that I have used. The summer sausage is a huge hit in our home and with all of our friends. Looking forward to next season.
Douglas P.
Montgomery, TX
Ken, I wanted to comment on the deer processing order you recently completed. I have been big game hunting since 1978 and have had many deer, elk, antelope, and caribou processed over so many years. I would like to congratulate you on your new business. Since picking up our order, we have had the pleasure of eating some of our Jalapeno Cheese Summer Sausage, Hot Polish Sausage, Hot Italian (bulk) Sausage, and hamburger. Everything we sampled was of the highest quality and taste. This was my.
Peter C.
Montgomery, TX
This was my first time to try Flemings Processing and I was excited after I tasted it. I am so picky, and for the last twenty years I have literally not been able to eat or cook with my venison. None of it seem to have any taste except that gamey taste. It seemed like such a waste of money since I wound up having to buy beef on top of all we spent on our venison. However, everything I got at Flemings Processing - link sausage, pan sausage, summer sausage and steaks - was perfectly seasoned! I.
Shelley A.
Giddings, TX
In hunting over 60 years throughout Texas, Oklahoma, and New Mexico, I have used many meat processors. Fleming's Meat Processors beats all of them. As far as their products and services, I would rate them the best I have ever used. Their deer sticks (hot) have the right heat level which makes them far superior to any on the market which we have tasted. The summer sausage and Polish sausage are also fabulous. For all of you deer and hog hunters, your taste buds will not lie to you. You will not.
Deca
TX
Wow! I am so glad I had a lot of sausage made because this stuff is going to all my "A" list folks, as I attend the season's festivities. The summer sausage was great, just like I sampled at your new facility, and the polish sausage blew me away! The hot is that perfect savory, give me some more, hot, not the "drown it with beer" stuff I've gotten elsewhere. It's perfectly smoked, ready cold, or heated, and a pleasing red color. I thought I was done hunting, but, I think I'm going to have to.
Gary B.
Lake Conroe, TX
I've tried several meat processors in the surrounding Houston area, most of which are decent. However, Fleming's is by far the best I've come across - Bottom Line. They have superior customer service, offer a variety of different meat processing options, and all at a great price. They really value their customers and will go out of their way to accommodate. I'm not the type of person to post comments like this, however I've been so pleased with the Fleming's business that I couldn't be happier.
Chris
Conroe, TX