Being lifelong outdoorsmen and hunters themselves (and having more game processed throughout the years than they could possibly count), starting their own wild game processing business was a natural next step.
Fleming's Wild Game Processing first opened in October 2009 in a brand-new, freshly-built facility at Lake Conroe (Montgomery, TX). After two seasons, the building was expanded by 50% to create additional work, cooler, and freezer space to accommodate the greatly appreciated rapid increase in business.
We're excited to bring the many skills and knowledge of the finer points of the meat business that we've acquired over the years, and bring them to our own customers at Fleming's Wild Game Processing. From start to finish, we want to deliver the highest-quality service and product that our customers have ever experienced.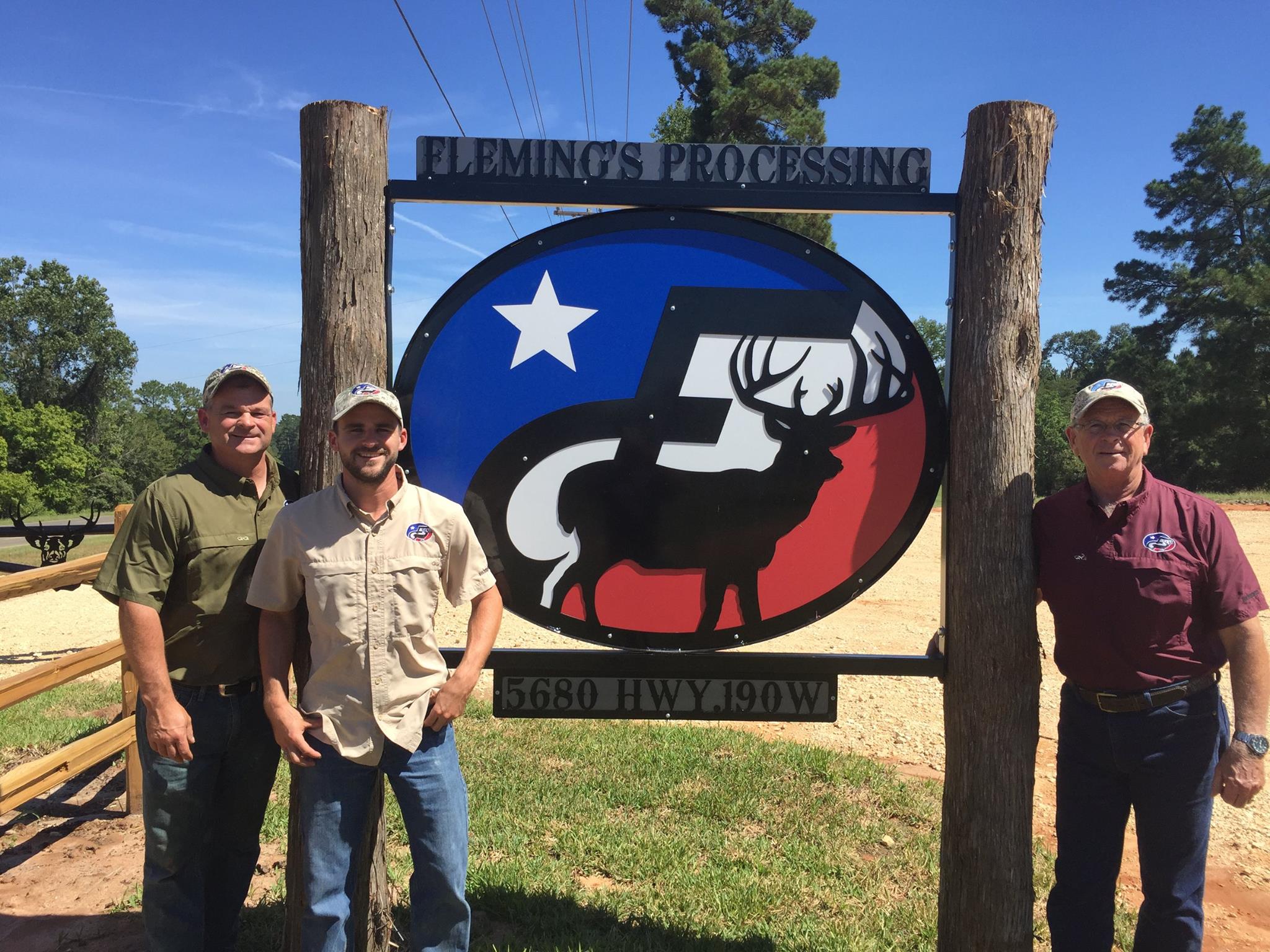 From the moment you pull up to either of our store, we strive to make our professionalism apparent, and we've given consideration to every detail of our business. For example, we know what a hassle it is to store and keep your game cool overnight until you can drop it off at a processor the following Monday. Our answer to that: Sunday drop-offs during the deer season. We also realize how important it is that your game is stored at proper temperatures, and how with many other game processors, you can't help but wonder if your game is being stored properly. Furthermore, the unorganized and disorderly atmosphere of many other game processors will leave you wondering how much of the product you receive is actually YOUR corn-fed game, and how much was mixed with other game that came from who-knows-where. These reasons are why we carefully tag your game at drop-off, immediately store it at 34 degrees until processing, and ALWAYS process each order individually. Throughout the processing of your order, or professionalism and attention to detail continues. When your products are finalized, they'll always be done so in vacuum-sealed packaging, with each package carefully and accurately labeled, and your order will be waiting for you in our freezers.
While a professional system and a clean, orderly atmosphere are important, we know that TASTE is of equal importance, and we've paid attention to detail here as well: For starters, we'll always use only the freshest USDA-inspected beef and pork products in our processing. Then, only the finest blends of all-natural seasonings are used, to enhance the flavor of the products. And as a final exclamation point on flavor, we use our in-house Pro-Smokers to cook and smoke, using only all-natural wood smoke. And as always, throughout the processing of your orders, you have the skill and know-how that only 50+ years in the meat business can offer, ensuring that your orders are always of the highest quality and best taste. We want to keep you coming back, and we're sure you will!